Safe and Effective Services
CLEAR BRACES
Clear braces are the same size and shape as metal braces, except that they have tooth-colored or clear brackets that blend into teeth. Some even use tooth-colored wires to be even less noticeable.
INVISALIGN® FOR TEENS
Teens have enough to worry about, don't make their braces another worry. Invisalign® for teens are virtually invisible, allowing teens to get a stunning smile without having to be self-conscious of the wires and brackets of traditional braces.
INVISALIGN® ORTHODONTIST
We are an Invisalign® Orthodontist, specializing in invisible, incremental tooth aligners. Orthodontists have 3 years of additional education, beyond dentists and even more specialized training to use Invisalign®.
ORTHODONTICS FOR ADULTS
Thinking about getting braces? Experts say it's never too late to perfect your smile. Adults make up nearly half of orthodontic patients. There are many, more advanced options than the old school metal braces.
ORTHODONTICS FOR CHILDREN
The American Dental Association recommends children should be evaluated for orthodontics by age 7. The Orthodontist can detect subtle problems with jaw growth and emerging teeth, allowing them to correct the problem before growth slows down.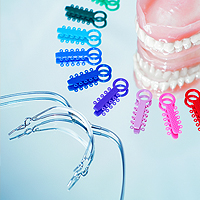 ORTHODONTIST
If you have a misaligned bite, jaw pain when chewing or need your teeth straightened you need to see an Orthodontist who has extra training to be able to specialize in this field.
TYPES OF BRACES
Many technological advances have been made in the field of Orthodontics. Instead of just the old school metal braces, you now have a choice of smaller stainless steel, ceramic or plastic materials to give you a beautiful smile.
COMMON PROBLEMS WITH BRACES
Many times braces can cause issues in the mouth, including Demineralization, Sensitivity, Gingivitis, Plaque/Tartar build-up, and Halitosis. See your Orthodontist for advice on how to avoid these common problems.